DESIGNER LUCINDA LOYA BRINGS A FEMININE EDGE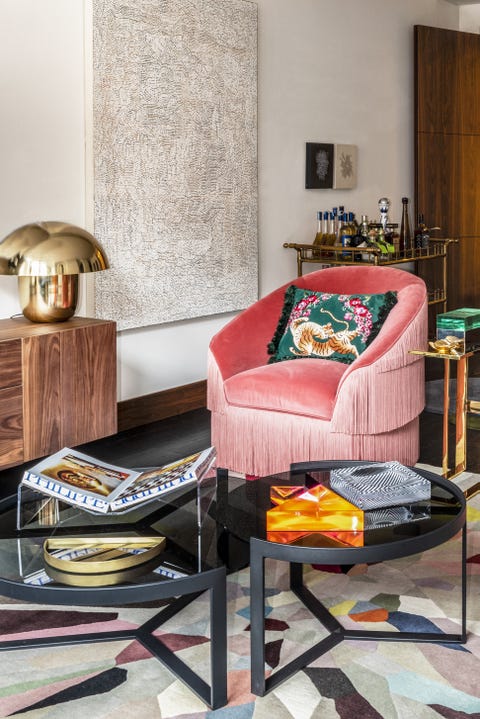 When Texas-based designer Lucinda Loya set out to transform a cold,
corporate apartment in London for rising model Maya Henry,
there was one thing that sold her on the project: A pair of chairs.
"How often do you get to use blush fringe chairs?"
Loya asks. "It's not every day we get to take a full 'girl power' approach to interiors."
But since Loya was given only one month to complete the entire project,
she placed the emphasis on adding color and personality to the space,
as opposed to starting from scratch.
Having previously worked with Henry's family in Texas
as well as in New York, Loya had a strong foundation when looking for complete creative freedom.
"I really enjoyed discovering new sources in London,
while adding a few local pieces to welcome a U.S.
native to her new country," Loya says.
"Maya has a large Instagram following and dates a high-profile musician
[former One Direction singer Liam Payne],
so the pops of color are perfect for young romance."
Here, Loya shares her process for designing Henry's apartment in London's Mayfair neighborhood.
ELLE Decor: Tell us about your background and how you began working in interior design.
Lucinda Loya:
I was raised by a single mother in a small town,
and my beginnings were humble.
I was searching for a creative outlet and had a natural knack for interiors,
so my first dollar earned in this industry came when newlywed
friends purchased their first home and needed help with the decor.
As projects kept coming my way,
I enrolled at the Art Institute of Houston.
Full speed ahead—I have developed a thriving design business,
honing a timeless and sophisticated aesthetic.
ED: How would you describe your design style?
LL: My firm and I hold the belief that art and design are something to be experienced, not just admired. I love expressing an artistic edge through texture, pattern, contrast, and splashes of color. สถาปนิก